If you've left it a bit late don't worry contact us today. We take orders when others say no and if we say yes we won't let you down.
The Latte mug is one of our few porcelain mugs and it has a tinge of blue with it's transparent glaze over a pure white clay. Porcelain is renowned for being exceptionally strong and is normally fired much higher than other clays. The little Style mug is another from our Bone China range and they both offer an outstanding printed finish.
Style Bone China Mug 275ml
Height 106mm x width 75mm
Print area is normally 60mm high x 50mm wide per side.
Latte Porcelain 340ml
Height 117mm x width 88mm
Print area is normally 70mm high x 60mm wide per side.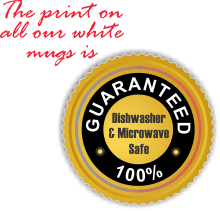 The prices listed below are per mug and include your mug and a single colour print, just add a $65 setup.
All prices are plus GST. If you require a quote to include freight just go to the contact page.
For additional colours see the bottom row below and also add an additional $65 setup per colour.